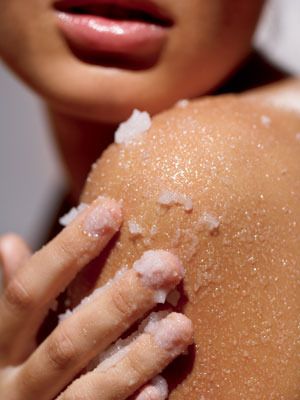 Posted by Judy Moon
Winter is here whether we like or not. It has it's good and bad, just like anything. There's nothing like a steaming cup of hot chocolate on a cold day, or snuggling in to watch a movie on a snowy day rocking your favorite sweater.
One of the down sides for sure is dry skin.
I have recently read over and over on various Facebook posts and blog posts about how we don't need to shower every day and how it is actually bad for you to do so especially in winter.
I couldn't disagree more with this, in fact it makes me crazy!
My first reaction is what are people washing with – Spic and Span?
First my disclaimer – I am not a dermatologist, skin expert or esthetician. I am speaking from what I have learned, (as a massage therapist, I touch a lot of skin!) and what I have observed from my own experience and my own skin. Clearly if you have skin conditions you need to talk to a doctor, but I think this type of skin care makes sense for most people.
The skin is an organ. Let's repeat that out loud – "my skin is an organ"
"I need to treat it like that."  In fact it's the largest organ of the body. It has three main functions – protection, regulation and sensation.
The skin renews itself about every 30 days. If this dead skin builds up, it can leave a dull, flat even scaly appearance.
Exfoliation is key! You must remove the dry dead skin first. This will also help with the penetration of whatever products you are using. If you moisturize without exfoliating, you are just moisturizing that already dead layer of skin.
How do you exfoliate?
There are lots of ways to do this –
Hot Towel Scrubbing – ditch that nylon scrubbing thing you have in your shower and treat yourself to an old friend – a wash cloth. It is much gentler on the skin and holds the hot water better – the hot water stimulates the pores to open. Rub the warm washcloth in gentle circles all over your body. Guess what – you are also stimulating your lymphatic system – an added bonus!
Salt and Sugar Scrubs – once a week I use a lavender sugar scrub for an extra deep exfoliation. There's tons of DIY recipes and already make products to purchase – I personally love the Lavender Scrub from Trade Joe's 
All of these stimulating things are doing just that – stimulating the skin to do what it is supposed to do – function, regenerate cells, breathe, produce it's own natural oils. Wake it up!
What the heck are you washing with?
Now that we have our skin alive and awake and doing it's job, what are you going to wash it with? That's a personal choice, but I would suggest using something that doesn't have a ton of ingredients in it and if it does, can you pronounce them and do you know what they are? Now that your pores are open do you want to absorb those ingredients? I love Copa soaps. I feel clean and fresh after a shower and they smell divine. We sell them at the studio or you can purchase them online. My favorite is the Vetiver.
So, you've exfoliated, cleansed and now you need to moisturize.
Again, personal preference. Same rules apply. Read your label and think about what you are putting on the largest organ of your body. I've heard it said that you shouldn't put anything on your skin that you wouldn't put in your mouth. That's extreme for sure, but it kind of makes sense. I use coconut oil right from the jar. I bought a cute flip top jar that I transfer it to and I add some rose essential oil to it. But you can literally use it straight from the jar it comes in.
We offer a dry brush treatment that can help get you started with a good skin care regime. We dry brush your whole body and then follow it with a therapeutic massage letting all of the oils soak in to your fresh new skin. You get to take home your brush, instructions and your new soft skin.
Showering every day is bad for you skin? I take a screaming hot shower daily, so I say, I think we have to agree to disagree.