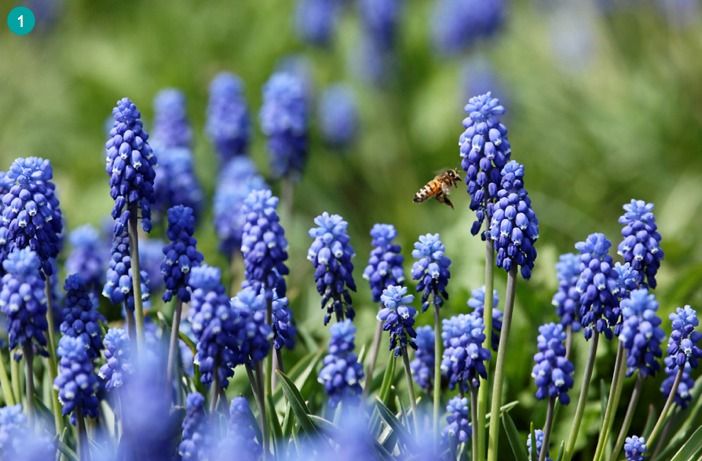 Posted by Gwyn MacDonald
I just finished ordering a few bulbs for fall (soon to be winter!) planting/spring blooming. 800 is a few, right?!
Yes, I am serious! My dear friend (and gardening partner in crime) Carolyn and I always plant lots of goodies for the honey bees and other pollinators to feast on when they start to venture out after the wilds of deep winter. And also, let's be honest, to cheer our human spirits after the long, dark days. Crocus are a favorite for the bees, so we decided to plant a bunch. 300 to be exact.
But then I saw the grape hyacinths, added another crocus variety, the scilla siberica, some anemone blanda… and I couldn't help it, those bright species tulips that called to me, Sirens that they are! Honest, it all started with my love of the bees…
We've been focusing more and more on flowering plants for the bees. And not just our honeybees at the garden. There are many varieties of native pollinators that need help these days. These amazing creatures are part of the backbone of our food supply, pollinating fruit and nut trees and many of the fruits and veggies we consume. Even though we are getting into hibernation season, soon enough we'll be back out there with our fingers in the soil. So remember the pollinators and plant a few extras for them this fall and next spring. Let your herbs flower (especially mint, thyme and chives!), let a few lettuce and radish go to seed. And plant some crocus! And then buy some local honey! Makes a great gift, since we are fast approaching the holiday season…
And I just learned something new about pruning away old hollow stems. Many pollinators use these stems to lay their eggs for the next season, so leave some of those stems in tact until spring (raspberry canes seem to be a favorite). I often do this just because I like the "sculptures" created by the old seed heads and stems. Gives the winter garden form and texture and looks super cool dusted with snow.
Happy planting!
P.S. I ordered everything from a larger company this time since I waited until the last minute (arrgghh!), but one of my very favorites for heirloom varieties of bulbs, corms etc. is Old House Gardens up in Ann Arbor, Michigan. Good for them, they are sold out of most bulbs for the season! I order Dahlias and gladiolas from them most years. Lovely company, excellent product and an always helpful and very dedicated staff.