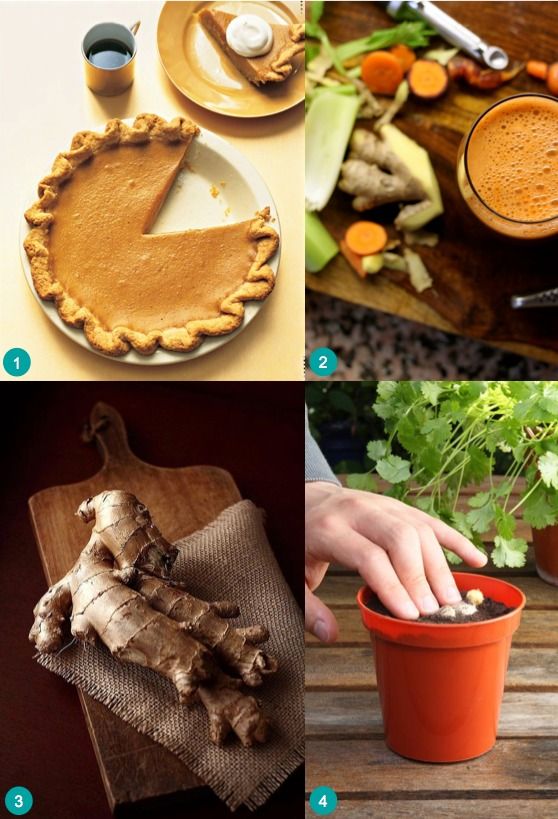 Posted by Alicia McCarthy
My love affair with Ginger began long ago when I discovered how wonderful it is for calming an upset stomach. Recently, my affection for this underground rhizome prompted me investigate into how effective ginger is not only as a digestive aid, but also as a means to reduce joint inflammation and nausea. During a cold or flu, ginger warms the body thereby promoting a "healthy sweat", which is essential for detoxifying when the immune system is compromised.
When I've overindulged, or feel intestinal discomfort or gas, I rely heavily on ginger's ability to relax the muscles of the GI tract. Usually, with just a few slices of the peeled root steeped in hot water, and some soothing abdominal massage, I feel relief almost immediately. Food Matters has a nice write-up on the "Terrific Benefits of Ginger", some of my favorites include:
Ginger improves the absorption and assimilation of essential nutrients in the body.
Reeling under joint pain? Ginger, with its anti-inflammatory properties—can bring relief. Float some ginger essential oil into your bath to help aching muscles and joints.
Stir up some ginger tea to get rid of throat and nose congestion. And when there's a nip in the air, the warming benefits of this tasty tea are even greater!
Ginger's roots (ha ha!) began in Southeast Asia, and it is used in recipes from around the globe. It's botanical identification is Zingiber officinale, which is thought to be taken from the Sanskrit "singbera" meaning "horn shaped". This spicy root is essential in the sweets of the upcoming autumn season, and my favorite pumpkin pie!
Photo Credits // 1 Martha Stewart // 2 Cocoon Home // 3 Pinterest // 4 HGTV