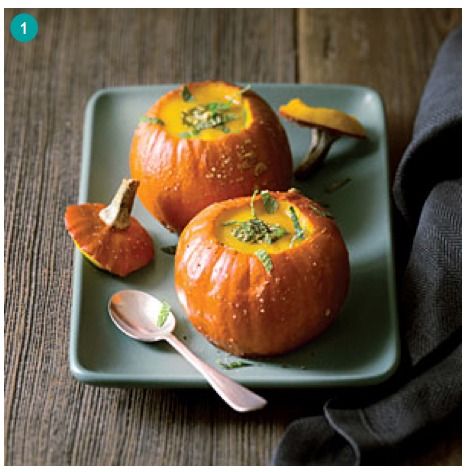 Posted by Judy Moon
This is the time of year when it's all about pumpkin. Pumpkin muffins, pumpkin latte, Great Pumpkin Smoothie, pumpkin body scrubs, pumpkin pie – you get the picture. Don't get me wrong, this girl loves her pumpkin, as my mantle shows, but sometimes I prefer it in a more savory way.
I was super excited to find this recipe a while ago on the Food in Jars website. Marisa McClellan is a local Philly gal and makes canning seem easy and fun! I've done a workshop with her and consult her book Food in Jars, Preserving in Small Batches from time to time.
I LOVE this soup and it couldn't be easier. I always have the ingredients on hand in my pantry and you can have tasty soup in a flash. True confession – I often use canned pumpkin from the grocery store and I think it works just fine when I don't have any fresh pumpkin to play with.
Ingredients
1 small onion, finely diced
1 tablespoon coconut oil
2 tablespoons curry powder (use your favorite)*
2 pints pressure canned pumpkin (with their canning liquid)
1 can coconut milk
sea salt to taste
Instructions
Combine onion and coconut oil in a small soup pot. Cook until onion softens and browns. Add curry powder and cook until it is fragrant.
Add pumpkin cubes, their canning liquid and the coconut milk. Stir to combine. Add up to one coconut milk can of water should it need a bit of thinning.
Bring to a bubble, reduce to a simmer and place a lid on the pot. Cook until onions are tender.
When soup is done, blitz it with an immersion blender. Taste and add salt as necessary.
Eat and enjoy.
Notes
*If you don't have any home canned pumpkin, use 1-15 ounce can of commercial pumpkin and one can of water.